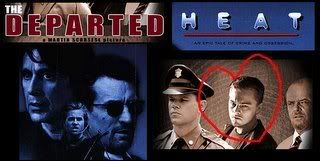 by Mishy Pinchy -
Steel Magnolia
I'm so tired of people saying they don't want to see Scorsese's latest work of brilliance The Departed. This is arguably his best film since Goodfellas and
features some of the greatest actors of our time.
The Departed reminded me a lot of Heat, another amazing movie. I think the latter was a bit long and drawn out, true to director Michael Mann's style, but well done nonetheless.
Both movies juxtapose two men who sit on opposite sides of the law. Where The Departed takes this to a whole other level is that these men sit on opposite sides of the law while embedded in each others' environments. The parrallels are obvious but without being gimmicky or cheesy.
First off - Jack Nicholson. It was refreshing to see that somebody other than DeNiro, Pacino, Pesci or Depp could NAIL the gangster role. It was also nice to see the Boston Irish in the spotlight for once and not the usual Itialian New Yorkers.
Although not one of the leading men, Mark Whalberg made the movie for me as an unlikely anti-hero and asshole extraordinaire who provides much-needed comic relief when things get too intense.
Matt Damon does a really good job playing one of those characters that you're not sure if you hate or sympathize with. You're rooting for Leo all the way, but you secretly hope it works out with both of them on top.
Lastly, my beloved Leo...oh how you never fail to disappoint me. Leo is so much more than a childhood crush to me. I honestly believe he is incredible and gets robbed of Oscars year after year. He's come a long way from playing Romeo, and for all he's done, I think we can forgive the epic disaster that was Titanic. In The Departed, Leo shows he can rock the Boston accent but he also embodied a man on the edge. Through Leo we felt the entire film and the intensity and stress of the whole situation.
This movie is what Donnie Brasco tried to do, put couldn't pull off nearly as well - showing a man lost between crime and the law. Here, Scorses proves that you don't need the shock-value, blood and gore to stand amongst the great films that tackle the organized underworld. He uses just enough violence to give us insight into poor Leo's high anxiety scenario. Instead well-written dialogue and superb acting is used to weave in and out of Matt and Leo's stories.
Both Heat and The Departed feature a heavyweight cast and end with a showdown between our ying and yang. If you liked Heat at all, go see this film already! You won't be disappointed - it's entertaining at the very least.